Normally, I don't touch fashion advice with a 10-foot pole. I GET fashion advice from my fashionista friends and then apply. Very simple. So, I posted a comment on my Facebook page this week asking for advice on how to dress for Thanksgiving with the boyfriend's family. (I should clarify — they've met me, we've done time, so this isn't a first meeting, but every family has different fashion dictates for every occasion and I needed some advice on this one.)
Some of my more fashion-forward friends provided great tips that I've decided to share for your enjoyment and possible use… (girls at the top of the post/guys at the bottom)
Basic tips for a good start:
Touch ups to take care of: nails, hair, skin, polish shoes, cleaners, clean jewelry, shave, watch battery that works.
Simple is better. Make sure you are wearing the clothes instead of the clothes wearing you.
Avoid cleavage, excessive amounts of leg showing above the knee, underwear (or commando) flashing, heavy make-up ala Tammy Faye, overdone hair (think Sarah Palin,) showing your alcoholic tendencies, heavy perfume, using foul language (F* Bombs are only good if you WANT to be rejected from the circle of trust,) referencing your sex life or being ridiculously over/under dressed for the occasion.
A cute coat idea for the season: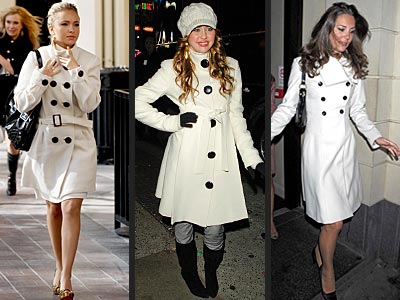 Do choose a simple, stylish dress in your favorite color, wear sassy heels (classy not stripper) and accessorize with the season's favorite trends. If your dinner is a bit more casual or you live in the great white north, think boots and sweater/jacket combo along these lines:
A good wrap dress also goes the distance for most occasions or a belted sweater and leggings with boots look for the more casual lounge around watching football kind of occasion.
You can find necklaces, rings, etc. at Forever 21 that will still leave room for a new purse or a pair of shoes. And of course Neiman Marcus is always available to help you obtain a Donna Karan or Catherine Malandrino with your name on it.
But always express your own style with a favorite piece of jewelry or perhaps that simple something your boyfriend bought you for your birthday. (Most parents love to see their child praised by their partner for buying something treasured or doing something appreciated like getting you a bracelet you wear everyday.)
For the guys? Live by these three rules:
Keep it clean. (Shave, iron, shower)
Keep it simple. (This isn't the time to sport your new affinity for man jewelry.)
Keep it classy (San Diego.) Avoid sex and locker-room talk, flashing the fresh man-scape on your chest and please avoid wearing pants that are too tight in all the wrong areas (leave your skinny jeans at home.)
For the formal occasion… go with classic cuts and colors. Add a dash of panache if you want to express your inner metro-man.
For the more casual occasion… keep it simple with a sweater/t-shirt combo. Pair with jeans or pants and comfortable shoes. (Not tennis shoes or flip-flops unless you're in SoCal or Florida!)
Or go with versatility. This last look can dress up or down for the guy who has no clue what he's walking in to. The jacket and/or tie can come off for a more casual look. One or both can be left on for a dressier occasion. I would advise a darker wash of jeans just to be less "jean-y" about it. But both light and dark would work. A v-neck sweater could be added under the jacket to add more options!